Dirk Hofmann
I am Associate Professor at the Department of Mathematics of the University of Aveiro.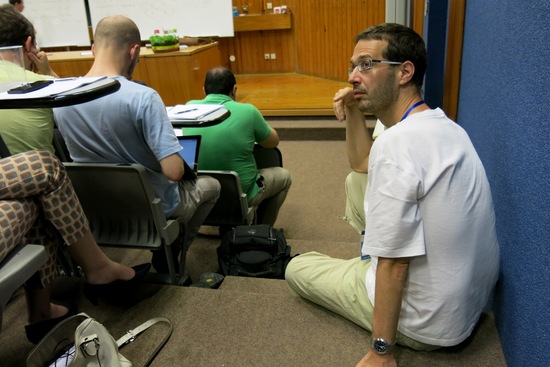 The picture was taken during CT2015 at the University of Aveiro.
Contact:
Departamento de Matemática
Universidade de Aveiro
3810-193 Aveiro
Portugal
Phone: (+351) 234 370 681
Email: dirk@ua.pt (please note this)
Other Publications
Dirk Hofmann, Gavin J. Seal and Walter Tholen (eds),
Monoidal Topology. A Categorical Approach to Order, Metric, and Topology, (pdf)
Cambridge University Press, 2014.
Authors: Maria Manuel Clementino, Eva Colebunders, Dirk Hofmann, Robert Lowen, Rory Lucyshyn-Wright, Gavin J. Seal and Walter Tholen.
Maria Manuel Clementino and Dirk Hofmann,
On some special classes of continuous maps, (pdf)
In Elliott Pearl, editor, Open Problems in Topology II, chapter 4, pages 367-376, Elsevier, 2007.
Injective spaces via adjunction, (pdf english) (pdf portuguese)
Scientific report for my Habilitation ("Agregação"), University of Aveiro, Portugal, January 2015.